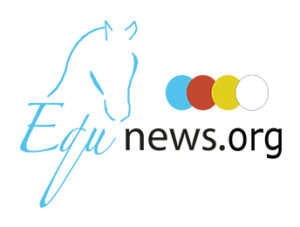 A new revolution on the market, we came in contact with In Horse We Trust, two french ladies that invented a new all-in-one rein. Described as reins that won't meld even when you light them on fire, promising is it not? Our Equteam made the test and tested a set of the In Horse We Trust reins.
IHWT is a young company taking the tack world by storm. The French ladies behind this brand introduce a game-changing adjustable grip reins that are hand made in France.
The reins are developed with high quality vegetable tanned leather and have a patented comfort grip material. This prevents the leather of drying, cracking and ensures you no longer have uncomfortable leather/rubber reins. Our riders loved it! The reins provide a lot of grip and even when the horse sweats, the grip stays.
Also the stoppers are adjustable to the millimeter, allowing for an incredible custom rein. "The reins feel very comfortable, although it's rubber, they have a sort of special feel you don't want to let go, " states five-star showjumping rider Damien Haelterman.
"We also like the fact the technics are combined with a nice design, bringing reins to a new type of level…" reveals Jean-Christophe de Grande. "I also liked the fact I could set the rubber end-pieces on a perfect length, helping me to have my reins on the same length at every moment when riding."  Maybe one feature, the adjustable rubber grips are a bit stubborn in the beginning, but they adjust quickly.
Last rider to have tested this set of reins was Randy Sherman, representing the USA. "I do love a good set of reins. I love the fact these reins are multi-functional. I don't need add-ons to have my reins the perfect length, my martingale pieces fixed, etc. just lovely to have an all-in-one solution."